Miles Through Time Exhibits
1989 Ford Festiva
Make/Model: Ford Festiva
Year: 1989
Owner: Donated by Tim Bagley
Original Price: $7,940
About the Ford Festiva
The Ford Festiva was Ford's answer for the Sub Compact car in 1987 with a base price of $5699. The car was built by Mazda-Kia in Kyung Ki-Do South Korea and shipped to the United States. Automatic transmissions were not offered until 1989 and would only be available with the Fuel Injected engine for an additional cost of $515. The Festiva was built on a 90.2 inch wheelbase and it's only 140.5 inches long. Although small in size, it is fairly roomy on the inside.
This 1989 Ford Festiva L was manufactured in South Korea in February 1989 and purchased in May of 1989 by a father wanting to give it to his daughter so she could drive to and from school. In 1996, after she had graduated college, the car was stored in a garage and driven an average of less than 1000 miles a year. When that family decided to sale the car, it was purchased by Tim's father for $2200 who rarely drove the car. When his granddaughter needed a car for school, he gave it to her but she was not comfortable driving a car without airbags.
To keep the car in the family, Tim purchased it from her for $2000. Tim loved the little car and called it Pinky. The car was kept in the garage with the except of some fun drives. It was so much fun to see folks smile when they saw it on the street, when you pass a semi or when Tim pulled up at a gas station and they see a 6 foot 3 inch guy come crawling out the driver seat. It didn't matter where you were, people wanted to know more about it. Due to some health issues that made getting in and out of the car an issue, but still wanting people to see it and smile at its size and charm, Tim donated it to Miles Through Time Automotive Museum. This car still has its original paint and interior with no cracks or tears. Plus, it only has 87000 original miles.
You May Also Like These Exhibits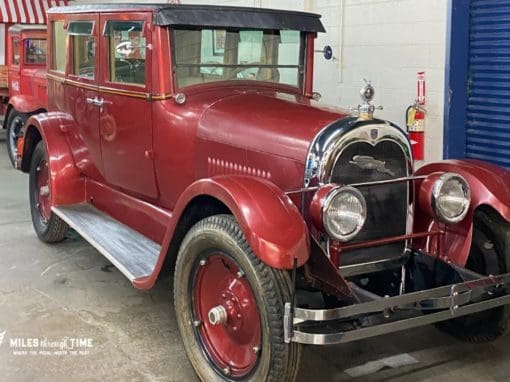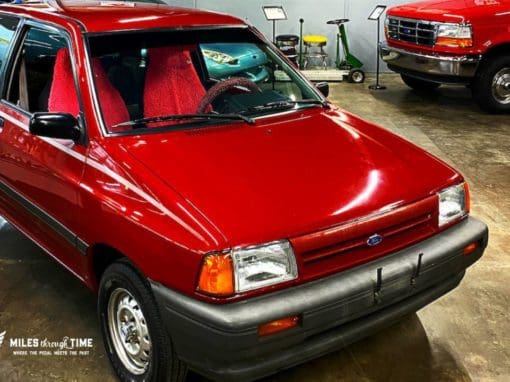 KEEP IN TOUCH
Sign up for our newsletter and be the first to know about upcoming events, promotions and get specials only for our subscribers!